Powers any USB input device!
Powers 5 volt devices!
Pocket-Size Universal iPhone, iPad, Cell Phone, Battery Charging System & 5 volt Power Supply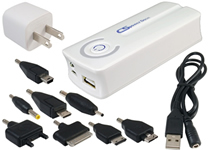 Makes a great gift. Carry it in your purse, pocket or car.
Stop getting caught with a dead battery in your cell phone.
Comes with 9 different adapter tips and 110 volt charger & USB cable. USB, miniUSB & microUSB adapters.
5600mAh battery capacity - 1000mAh output current
Weight: 142g=5oz
102.2mm x 44.5mm x 25mm
Pocket Size Batteries
Outline
Model
Type
Capacity
Price
Order
CS-PW003W
Li-ion
Portable Battery/Charger
5.0v
5600mAh
$27.00Cdn
($21.60US)
There is a $12.00Cdn ($9.60US) shipping and handling charge.
Cell Phone Batteries Home Page